Calorifers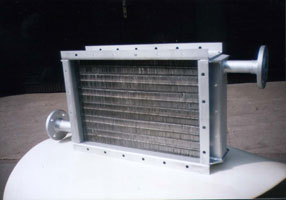 Technologia Engineering Ltd is designing and manufacturing finned radiators for individual and type situations. The medium in the tubes can be either steam or liquid material. The heating element can be consist of two or four tubes and the outside diameter is either 25 or 15 mm depending on the medium. By carbon steel tubes the material of the fin is aluminum, at stainless steel it is the also stainless steal. The good metal-through connection is achieved through the hydraulic extrusion of the tubes. This is based on the company's license technology. The tubes are welded in the water chambers which have went and drain connections. The temperature limit is between -10 and 180 °C.
Nominal pressure of radiators: 16 bar, on request can be more.
The radiators are usable for heating or cooling.
We produced kind of radiators which substituted the earlier manufactured radiators as HOKA, RÉKA, RAK and so on. Outer connection of these radiators are the same as the earlier manufactured radiators.
We produced heating-coil unit for thermoventilators (TRA, TRC, TCK etc. series kalorifers) and kalorifers for air-conditioner, as well as coolers.